Make your wedding invitations in Oaxaca and save the date
Your destination Oaxaca wedding should include all the special details that make people fall in love with Oaxaca. A custom designed Oaxaca wedding invitation by a local designer starts the wedding off right. Your guests can get a taste for the colorful, vibrant traditions and culture that they will get to experience when they visit Oaxaca for your wedding celebration.
SAVE THE DATE
The first step, Save the date for your wedding.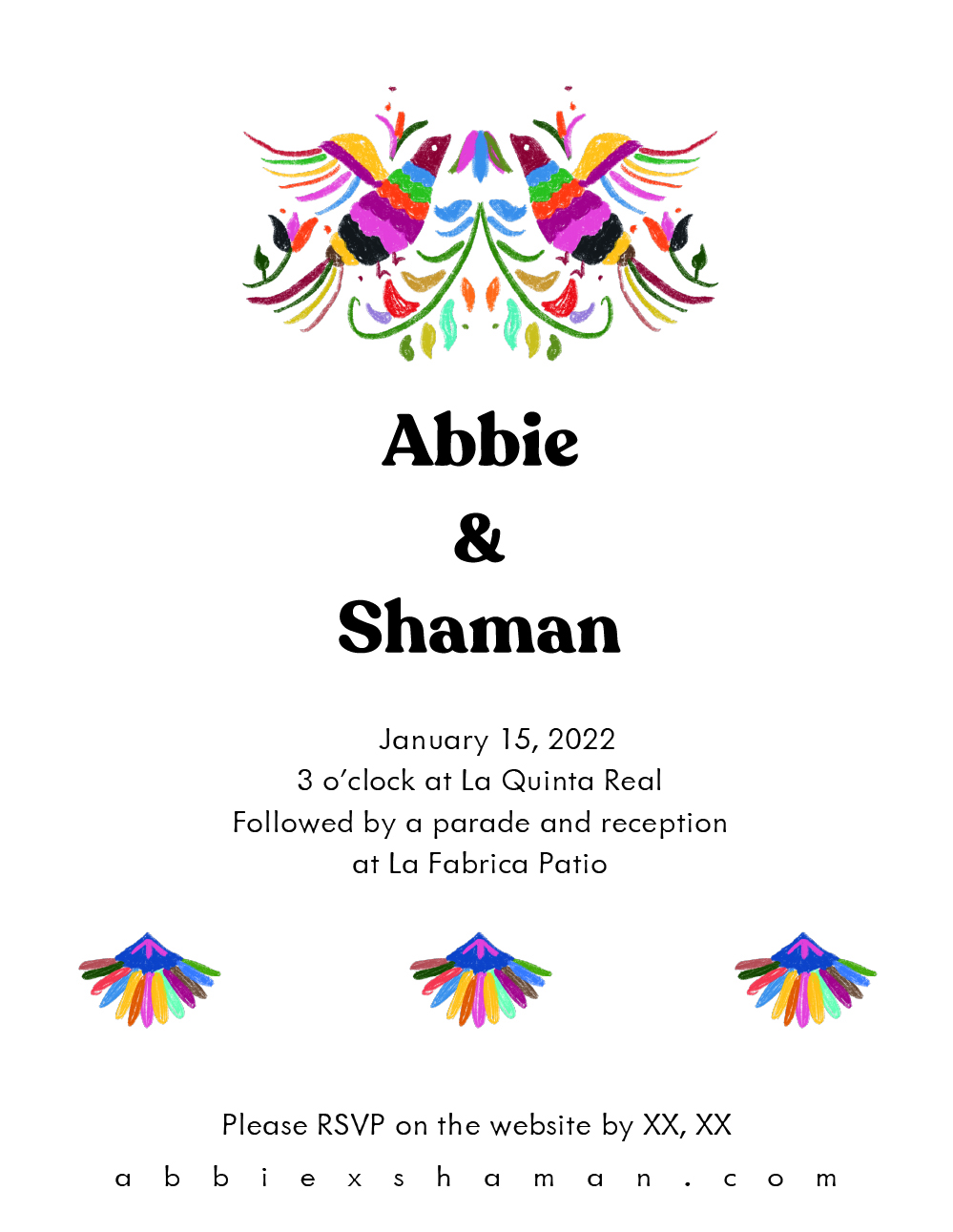 WEDDING INVITATION
Invitation wedding just for you
ADD-ONS
Invitation wedding just for you
And save the date in Oaxaca
I am a native Oaxacan designer who specializes in illustrations, branding, architecture, and product design. I can create a one of a kind invitation and save the date card that reflect you as a couple, your personalities, and the aspects of Oaxaca that you love.
Contact me anytime and we can chat about what you are looking for, and how I can help create the perfect invitation for your wedding.
Oaxaca Wedding Invitation Services Offered:
Other Oaxaca Wedding Services Offered:
Gift Bag Items Design

Customized Souvenirs like Jicaras or Ceramics with the Couple's Insignia/Design

Custom Designed Items like Wooden Gift Boxes with Local Mezcal Cups Inside or Custom Tote Bags (link to products page)

Tours for the Oaxaca Wedding Guests

Food Tours like Street Taco Experiences or Cantina Tours

Mezcal Palenque Tours

Tours to Archeological Sites, Hierve el Agua, Tule and More.
I can include drawings of you and your fiance, important people or pets in your life, and beautiful elements of Oaxaca like corn, mezcal, calendas (parades), textiles, nature landscapes, and more. Let's talk about what you have in mind.
Examples of My Wedding Invitation Work:
Contact Me Here: arturo.cdd@gmail.com